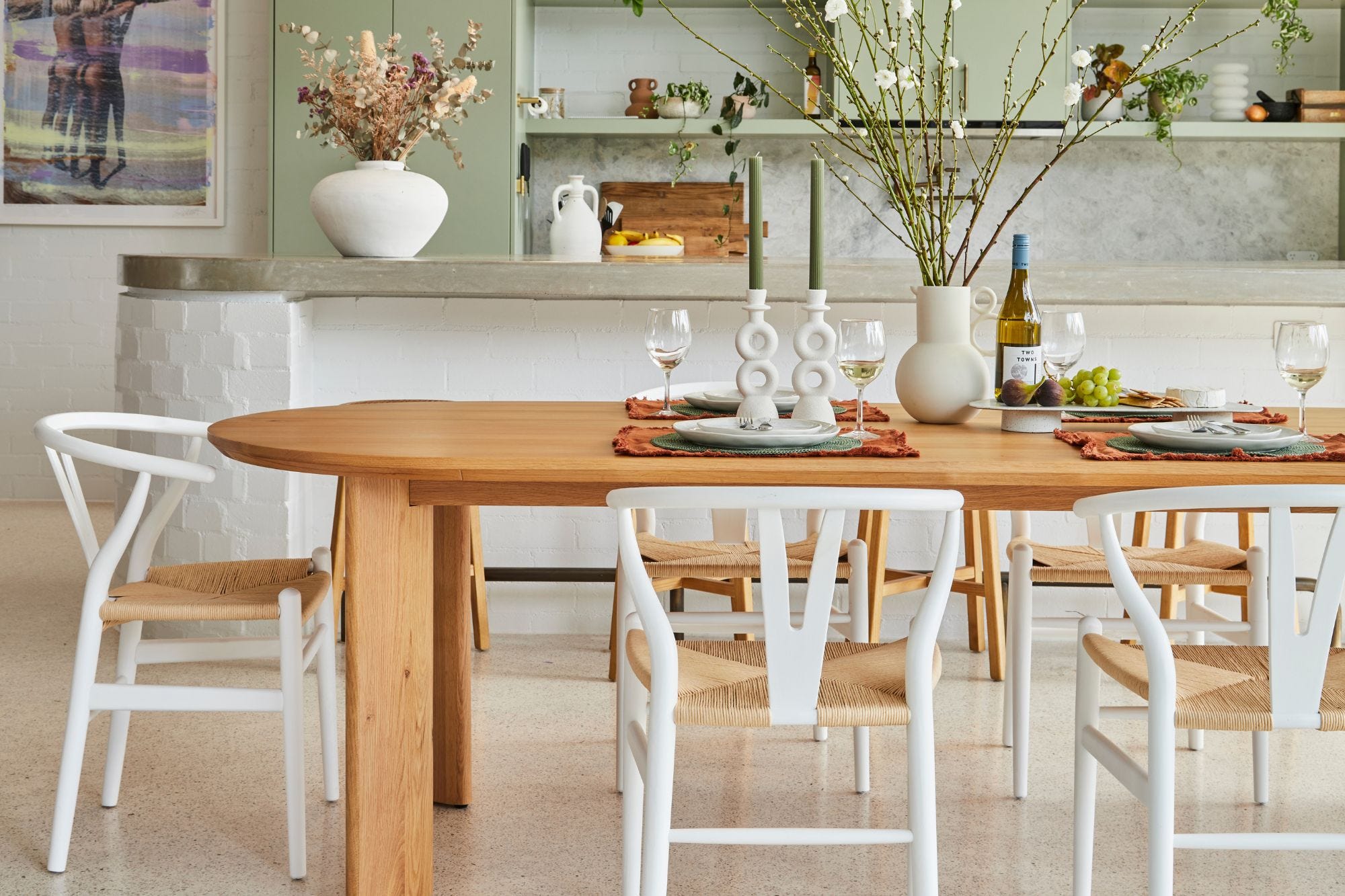 When it comes to creating an inviting and aesthetically pleasing dining space, styling the perfect dining table is essential. To help us master this art, we've turned to Interior Stylist expert and author of The Home Style Handbook, Lucy Gough (@style_by_lucy) for her valuable insights and tips. Whether you're hosting a special dinner party or just want to elevate your everyday dining experience, with Lucy's tips, your dining table will become the stylish centrepiece of your home.
---
Creating the Perfect Dining Set-Up
Before we deep-dive into the delicious details, it's crucial to set up your dining area correctly. You've got to strike that perfect balance where comfort waltzes with style.
Embrace Elbow Room
Give your guests the gift of wiggle-worthy space by providing ample elbow room. To ensure your dining area is comfortable and enjoyable, each dining chair should have at least 20 centimetres of space between them, allowing diners to relax without feeling cramped.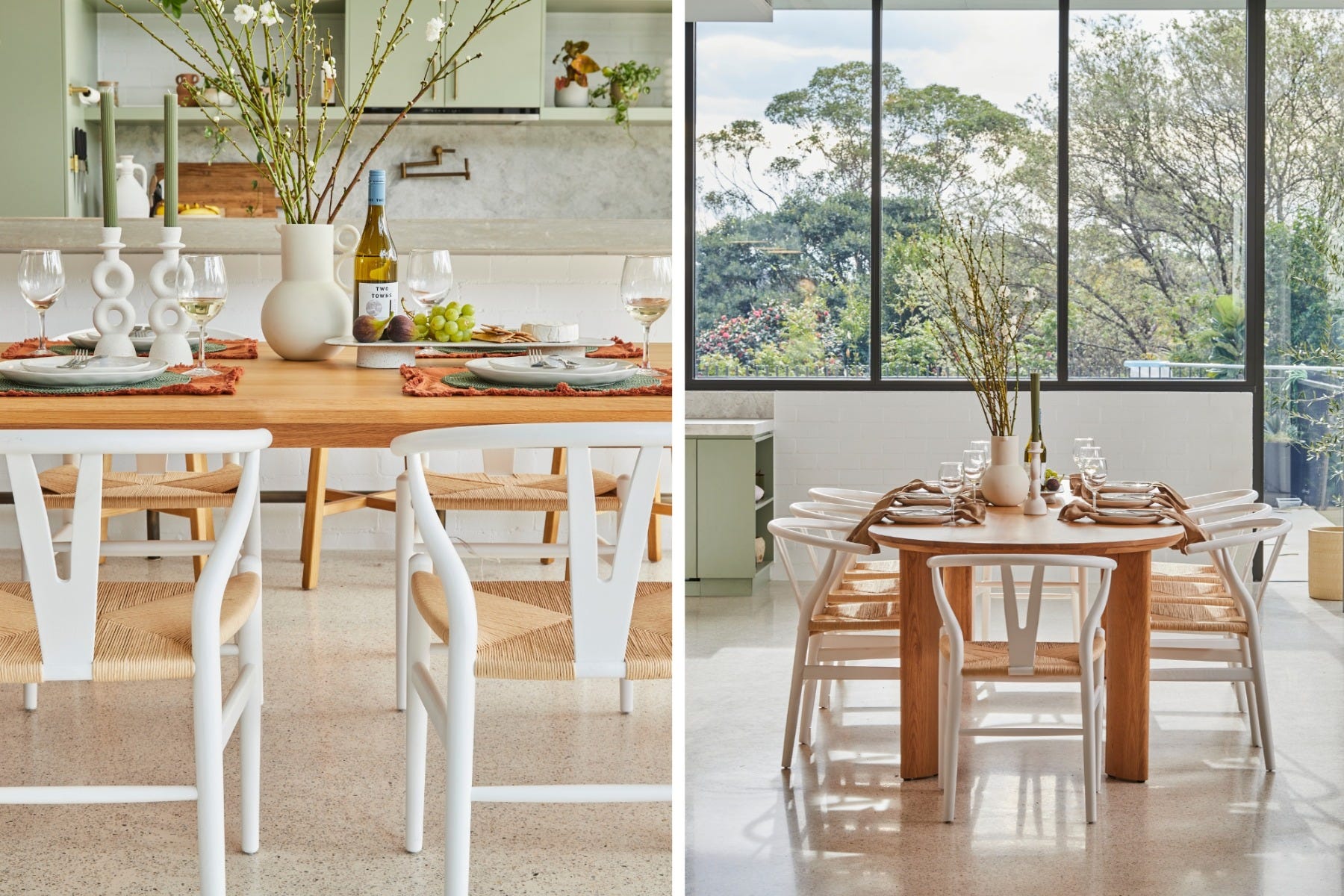 The 60cm Clearance
To maintain an open and airy ambiance, leave 60 centimetres between the back of your dining chairs and the nearest wall. Adequate clearance prevents your chairs from bumping into the wall and gives your dining area a spacious feel.
Shape Matters
Harmonise the shape of your table with the shape of your room. In rectangular spaces, opt for a rectangular table, while square or round rooms flourish with square or round tables.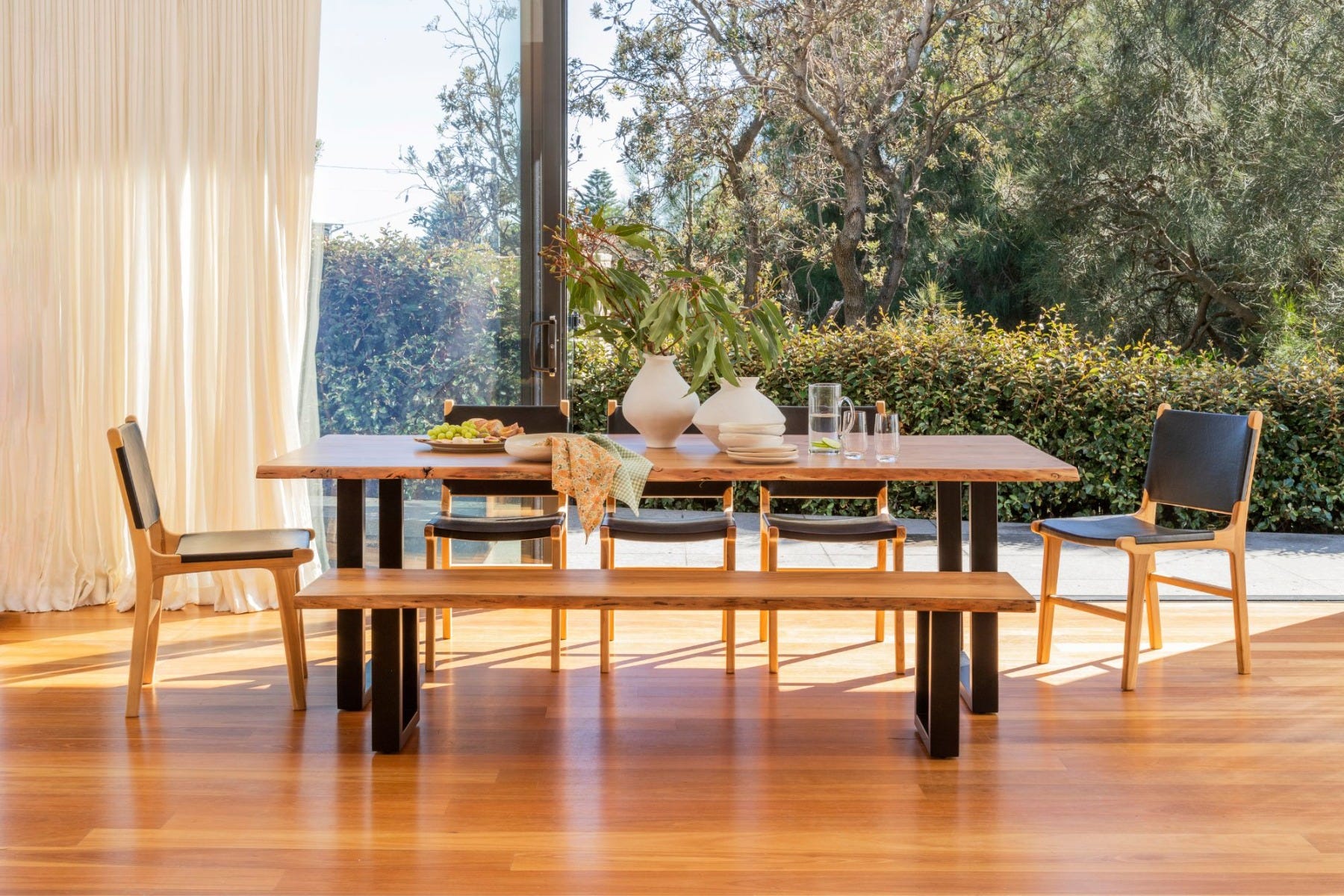 Open Plan Space?
If your home has an open plan layout, you'll want to create a sense of continuity and spaciousness. To allow a smooth flow of energy throughout the space consider a dining table with rounded edges. This design not only softens the lines in the room but also encourages free movement and fosters a welcoming atmosphere for gatherings and everyday living.
Like a classic romance novel, the Graze Arrow Dining Table and Ark Dining Chairs are a match made in dining heaven. Pairing perfectly for a dining experience that's as comfortable as it is stylish. This rounded table also comes in a range of sizes to suit any dining space.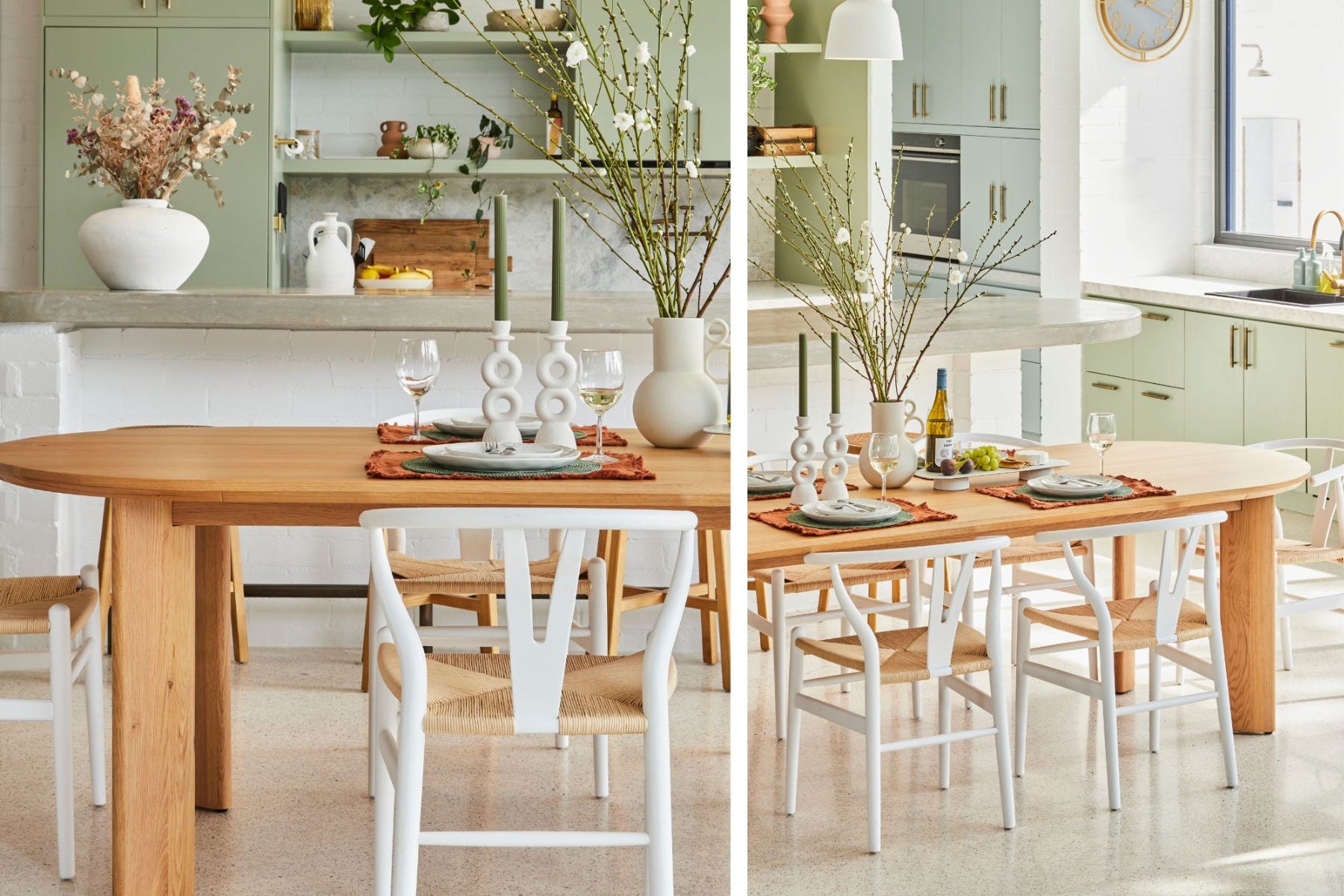 To continue this flow of energy and movement to the living room, The Graze Coffee Table, is the perfect companion for a seamless transition, allowing you to create a unified and inviting living-dining space. And the perfect place for Lucy's new book: The Home Style Handbook.
Styling the Tabletop
Now, let's focus on the tabletop itself, where the magic of dining table styling begins.
Table Runner and Foliage
Jazz up your table's runway by adding a tasteful table runner and a vase filled with lush leafy foliage. Lucy has a little secret: she's team foliage over flowers! Why, you ask? These green gems tend to last longer in the vase, ensuring a fresh and vibrant look for extended periods.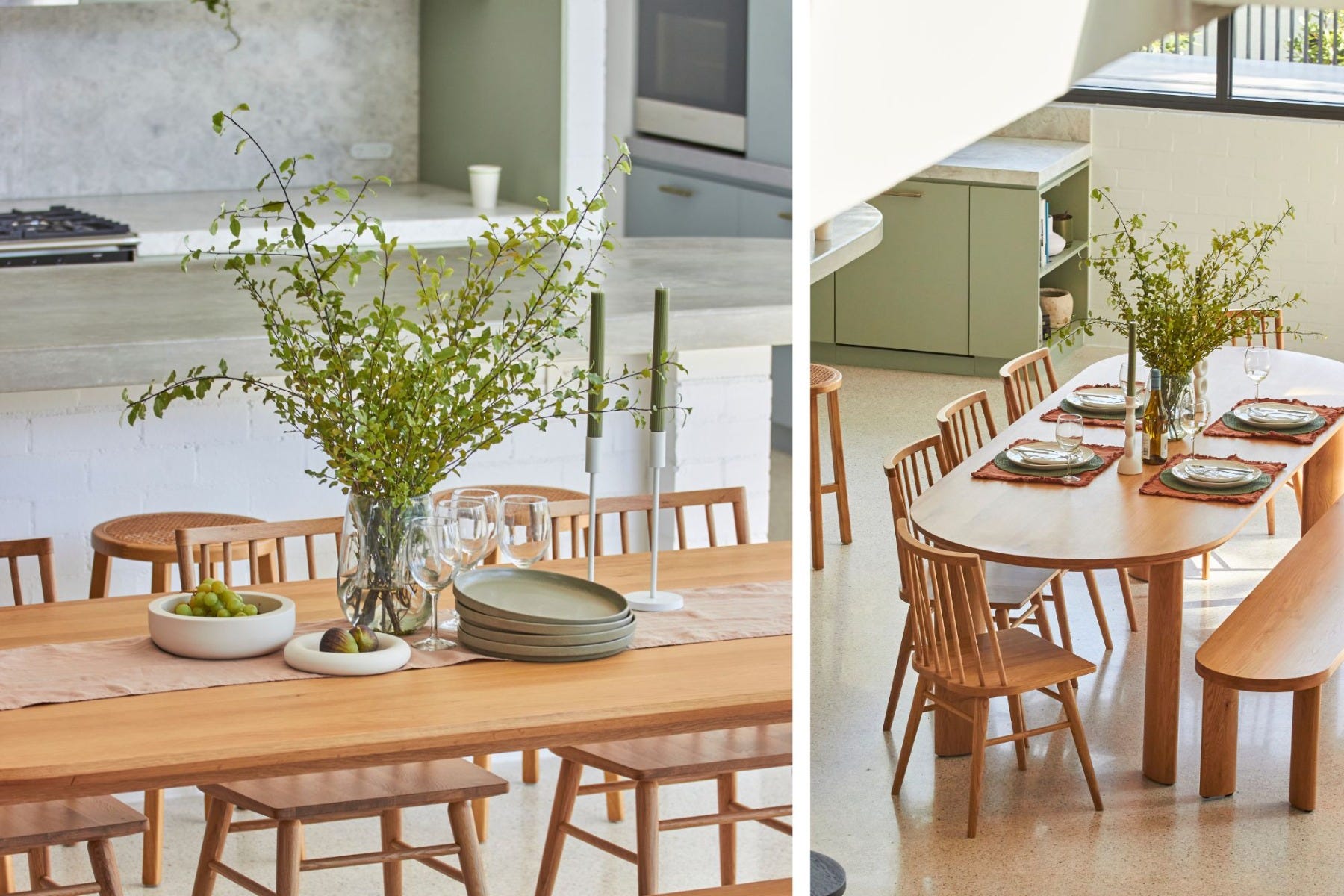 A Minimal Palette
To maintain a cohesive interior scheme, Lucy suggests sticking to a minimal colour and textural palette. Selecting complementary colours and textures creates a harmonious dining space. For a lighter colour scheme, the timeless Ollie Extension Dining Table and Ollie Dining Chair offer a simple yet elegant foundation, seamlessly complementing and enhancing a lighter colour palette.
For those with a penchant for the dark and dreamy, the Dakota U Dining Table offers a striking contrast with its rich wood, live edge finish, and sleek black metal legs. It pairs perfectly with the solid ash wood of the Ark Dining Chair, an iconic replica Wishbone design. Talk about a dynamic duo that's a match made in furniture heaven.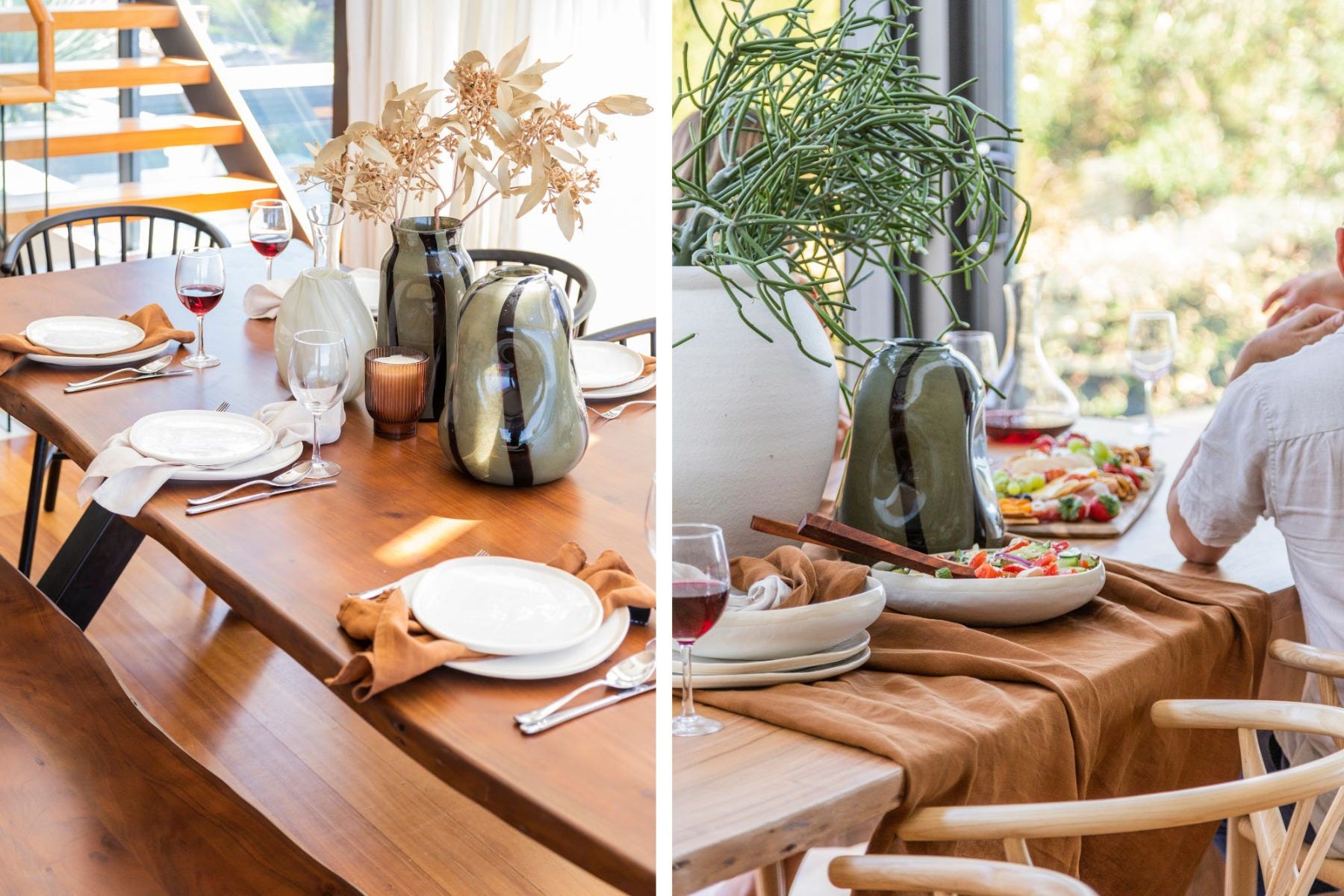 The Art of Tablescaping
Lucy lets us in on a tablescape trick: it's all about lovely layers.
To add depth and interest, try using two types of placemats, a larger one at the bottom and the smaller one on top. This technique allows you to showcase both colours and adds visual interest to your dining table.
Styling the perfect dining table is an art that combines functionality and aesthetics. By following Lucy Gough's expert tips, you can create a dining space that is not only comfortable but also visually stunning. From optimising chair spacing to adding the right decor elements, these insights will help you transform your dining area into a place where meals are not just eaten but also celebrated in style. So, dress it up, set the stage, and let the dining tales unfold. From Tuesday tacos to fancy feasts, Lucy's tips will ensure your table is the talk of every mealtime.

Want to learn more? Grab a copy of Lucy Gough's The Home Style Handbook.