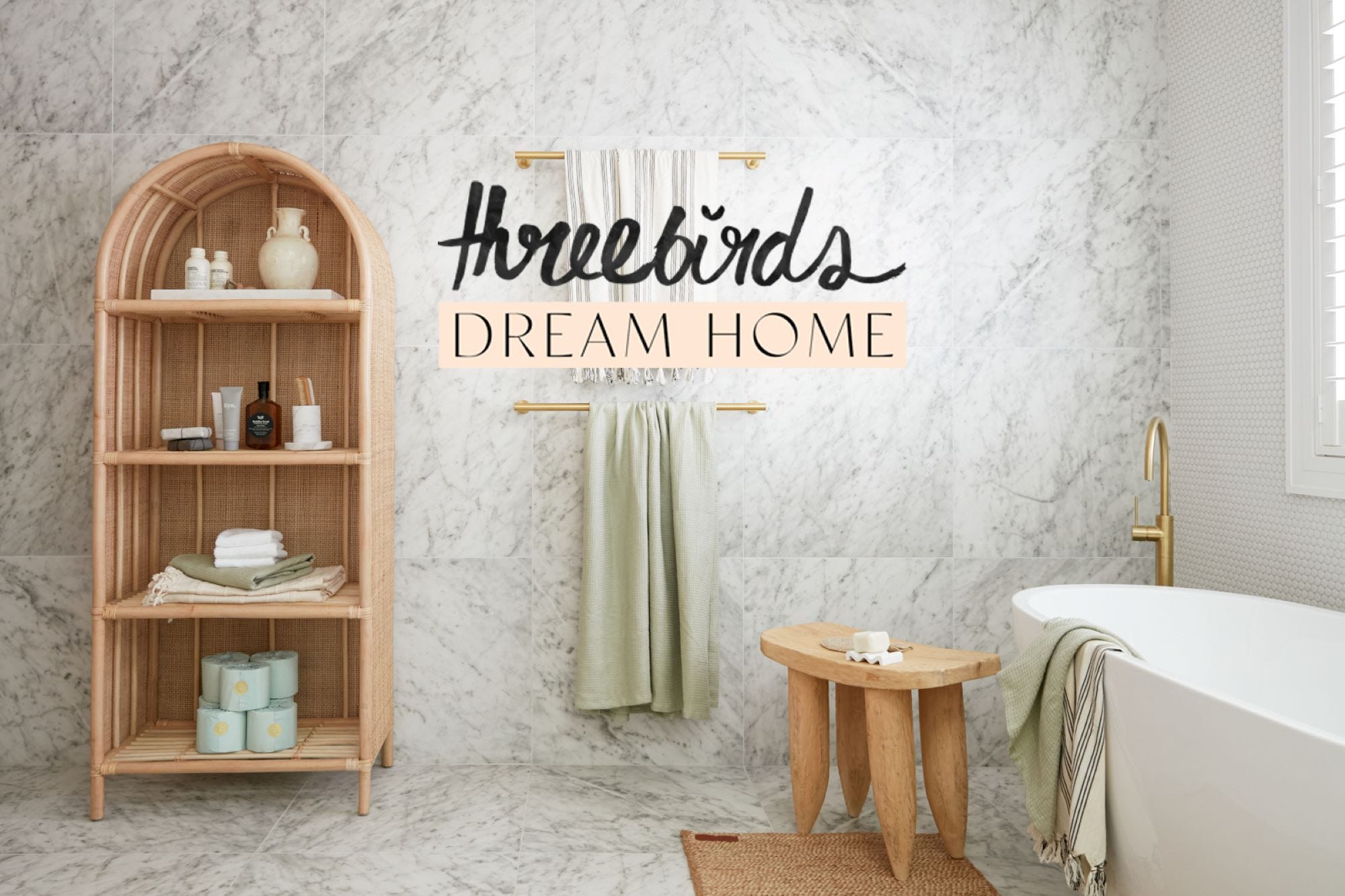 A place of tranquillity and serenity. A moment to lounge in the bathtub with your favourite magazine. A space to take time for yourself, indulge in your beauty routine. To pamper your mind and your body.
For many of us, that's the ultimate dream of what our bathrooms should represent. However, when you have kids in the home or you're rushing from A to B, it's easy for this room to quickly turn into an area that's in need of some good old TLC.
Bathrooms are notoriously expensive to renovate, but you don't need to take out a new home loan to give your space a facelift. Here are 5 easy ways to elevate your bathroom from lacklustre to luxe, inspired by the Three Birds Dream Home.
---
1. Combine muted colours with metallics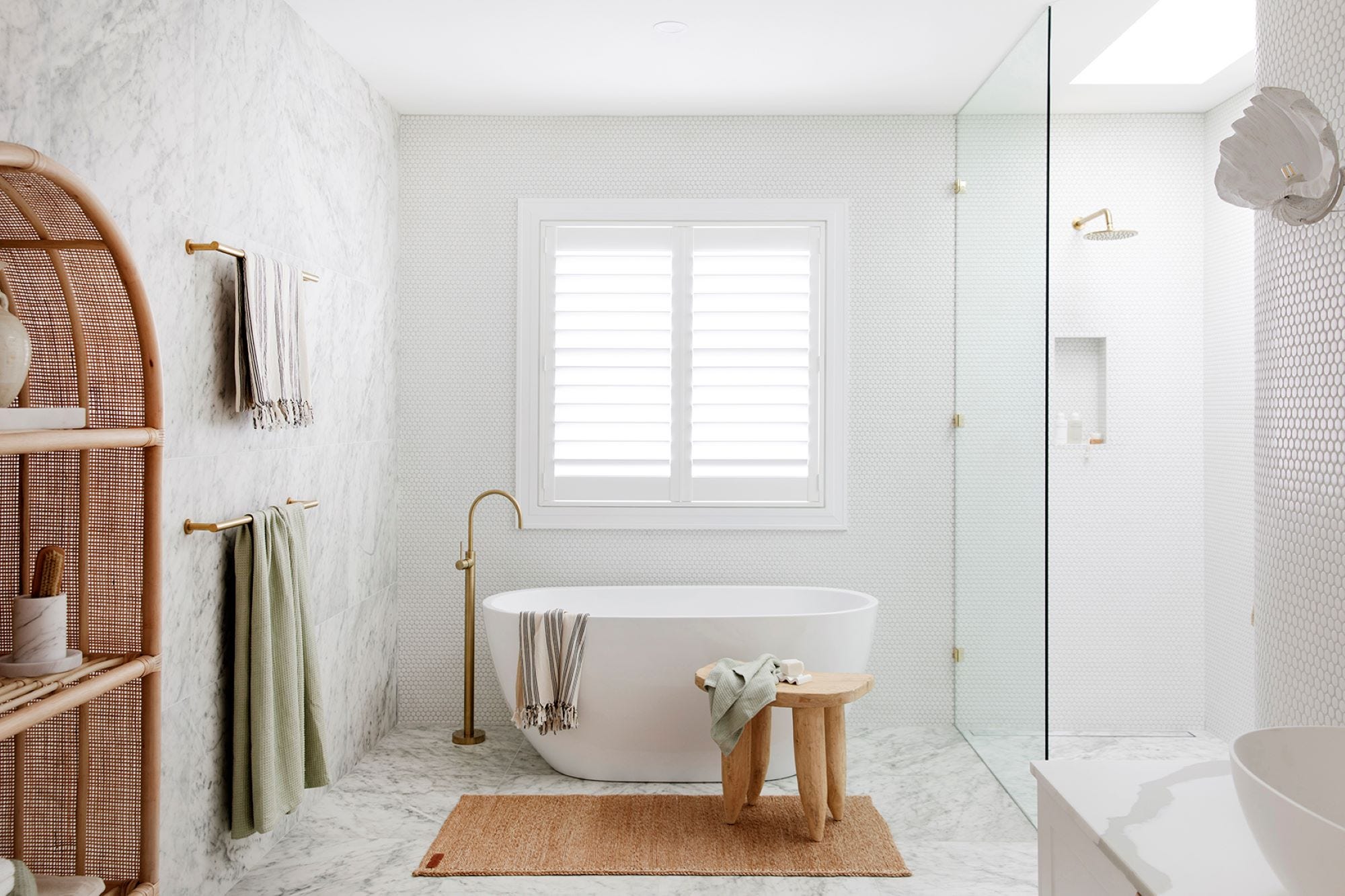 Brass hues naturally work with most bathroom spaces and add a touch of luxury, while shades of green bring a much-needed breath of fresh air.
We love how Three Birds have featured gold accents in the towel rail and tap fitting and incorporated pistachio through the linens and accessories. This subtle palette is light yet glamourous — plus, the linens can easily be swapped out with different colours every time you're craving a change.
2. Keep it contained
Every bathroom is filled with plenty of knick-knacks, from toothbrushes and soaps to towels and beauty products. One of the fastest ways to spruce up your area is to clear the clutter and pop any unused items in the cabinets or drawers.
For those items that you would rather not tuck away, focus on storing them as stylishly as possible: think an elegant dish for your soap, a tumbler for your toothbrush, or a marble tray for your shampoo and conditioner — just like Three Birds have done for the main bathroom of the Dream Home.
Tip: take it one step further and purchase some gorgeous reusable bottles or shop for toiletries that match the aesthetic of your home.
3. Invite people to sit and relax...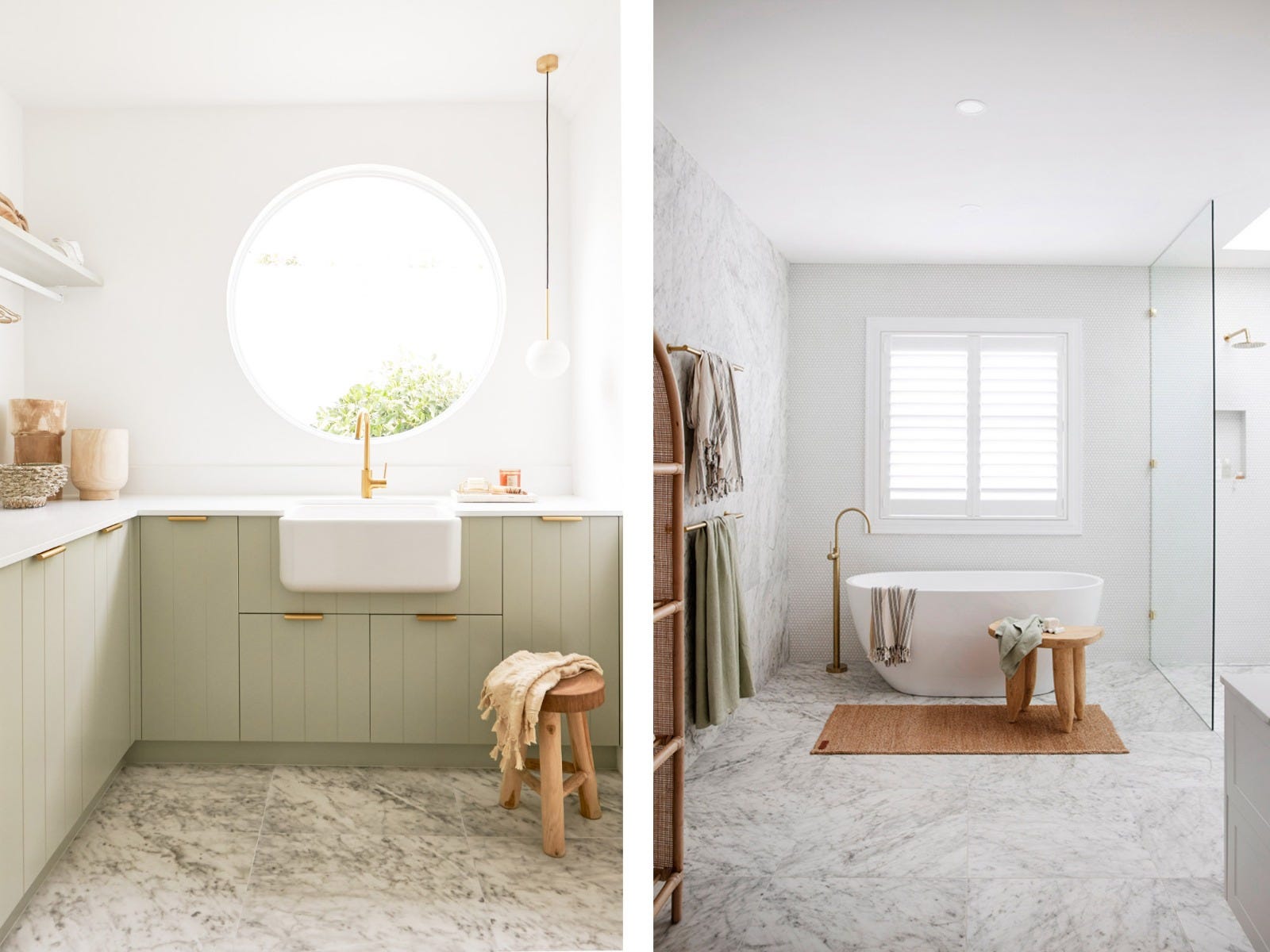 Think back to every lavish bathroom you've ever had the joy of stepping foot in. What do these all have in common? There's a place to perch.
Seating in the bathroom often feels grand, whether it's a subtle stool or a full-blown armchair and matching ottoman. We're loving Three Birds' use of a wooden stool, which contrasts perfectly against the hard stones and metals and is more versatile than an armchair or lounge. Our Cuba Stool has also been used in the laundry space to perch items in the same way.
4. Mirror your shapes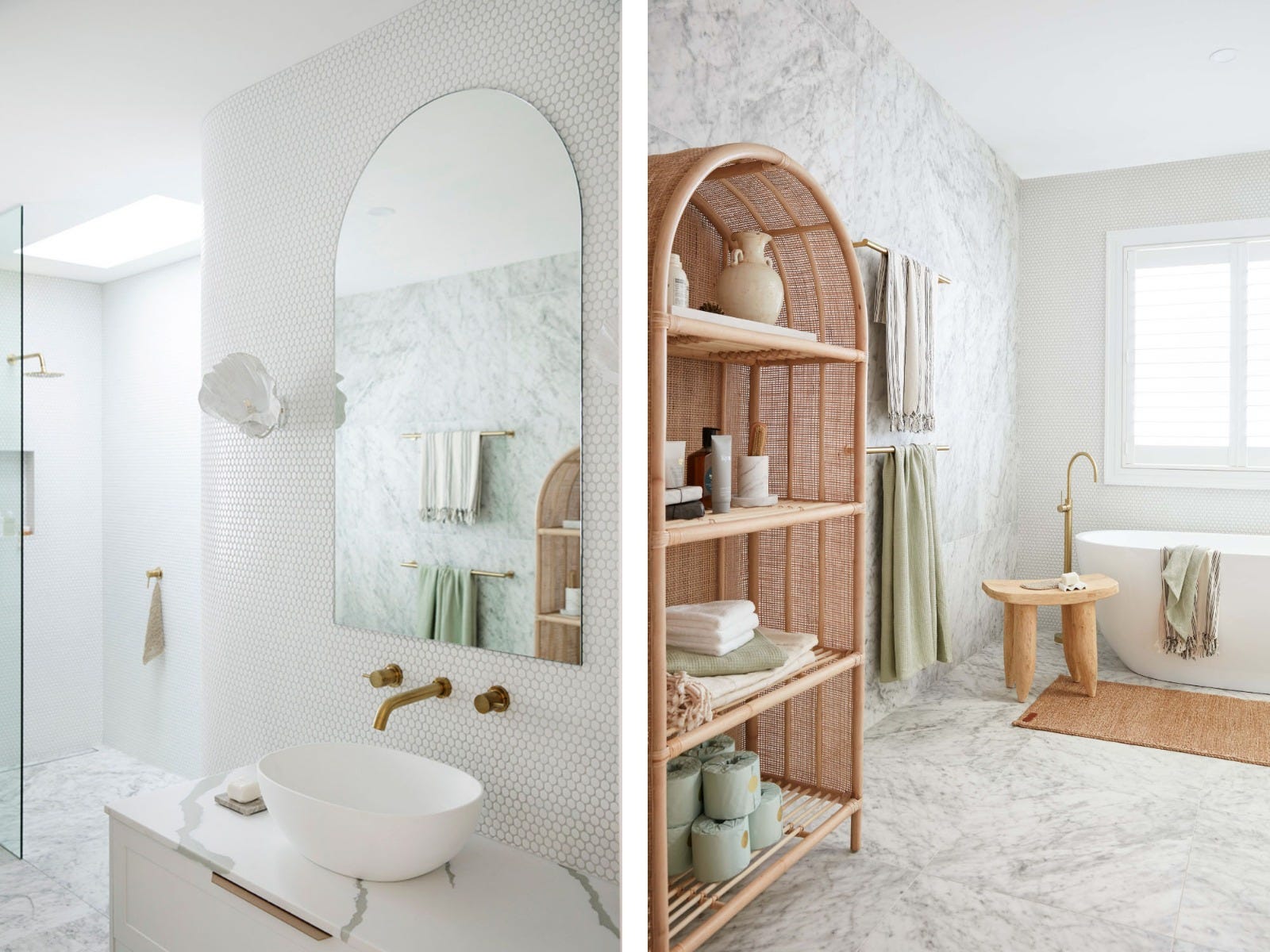 There's something incredibly satisfying and soothing about being in a space where the shapes echo one another. From the curves of the bathtub, the tap fittings and the bathroom sink to the archway of the mirror and the Maya Bookshelf, Three Birds incorporate fluid forms throughout the room to create a sense of harmony and flow.
5. Rug up your room
Bath mats are a necessity in the bathroom. However, these can become worn and unkempt, or detract from the overall aesthetic of the space. One quick way to level up the decor in your bathroom is to swap out the terrycloth or memory foam mats for a chic rug instead.
From a coastal pattern to a vibrant Turkish design, these pieces will add a ton of personality and sophistication into your room. You'll be surprised at how much difference a few small changes can make.
---
Want to elevate your bathroom space? Shop our favourite items below which bring to life these styling tips.